A'Marine is a high-end resort-style condominium nestled within the lake-side enclave of Sunway South Quay sited within Bandar Sunway. A'Marine neighbours Nautica and together the both are next to the former Sunway Xtreme Park, which is being development into the retail shopping mall known as Sunway Geo. This leasehold condominium comprises of 242 units sprawling over two 25-storey towers. There are 105 and 137 units housed within Tower 1 and 2 respectively.
Sunway South Quay in Bandar Sunway is a development comprising over 160 acres of residential and commercial land located next to Sunway Medical Centre, Sunway Pyramid and Sunway Lagoon. This area will comprise of luxury villas, condominiums, apartments, commercial and retail development overlooking a 28-acre lake. Nautica's strategic location within Sunway South Quay affords its tenants with various convenient options of getting around. Choose either the free Sunway Shuttle bus that arrives at the guard house of Nautica, Walk to Monash University in just under 14 minutes or Drive to Monash University in under 5 minutes.
In a Nutshell
Our student accommodations are strategically located in Sunway South Quay, an integrated township with a captivating 28 acre lake and excellent amenities such as shopping, restaurants, medical centre, theme park, universities and colleges. Sunway South Quay allows you to enjoy the ease of city life, all in the comfort of a gated and guarded community patrolled by Sunway's own auxiliary police. The Monash University Sunway Campus and Sunway University are less than 1km from Sunway South Quay and can be accessed easily by Public Transport.
All our individual private suites include a double bed (Queen or King), study desk, study chair, book shelf, designer built in wardrobe set with full length mirror, air conditioning and Unifi Internet access. Some of our private suites are self- contained and comprised of refrigerator, kitchen with cooking facilities, vanity sink top and bathroom.
All student accommodations come with full facilities for your living needs.
A'Marine Accommodation features:
Private en-suite toilet (selected units)
Private balcony (selected units)
Fully equipped kitchen with refrigerator, microwave, cooker, water dispenser
Washing machine & Dryer
Student lounge with 42″ LED TV
CCTV surveillance system
Weekly maid cleaning service
Condominium features:
Olympic size swimming pool
Gym
Sauna
Jacuzzi
Barbecue Area
Cafeteria
Reading Room
Jogging Track
Mini Market
Nursery
Playground
Wading Pool
Accessibility & Connectivity
Cook
Refrigerator, microwave & cooker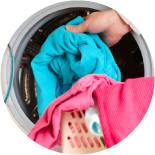 Wash
Washing machine & dryer
Chill
Student lounge with 42″ LED TV
Security
CCTV surveillance system
Clean
Weekly maid cleaning service
Parking
Car park available for rent